Violet (formerly Aurora) is a blue merle Pit Bull mix. Her personality matches her awesome markings, too!
She loves everyone she comes into contact with and lives for affection. She's up to doing anything you're up to doing. If you want to nap, she's gonna nap right next to ya. Go for a evening jog? She's game for that too!

She is a dog with a great "off-switch" - when you want to chill around the house, she is relaxed, but when you want to get out and do something, she is ready to go.
Violet is approximately 1 to 2 years old. She is great with children and is currently being fostered with a toddler. She does better with male dogs, as she is the alpha female. She also does better with larger dogs, and is not cat friendly.
I want cookies!
BLOGGER'S NOTE: I met the gorgeous Violet at the Weeki Wachee event. She is a really laid-back and easy-going kind of dog. Love her!

UPDATE 4/8/11: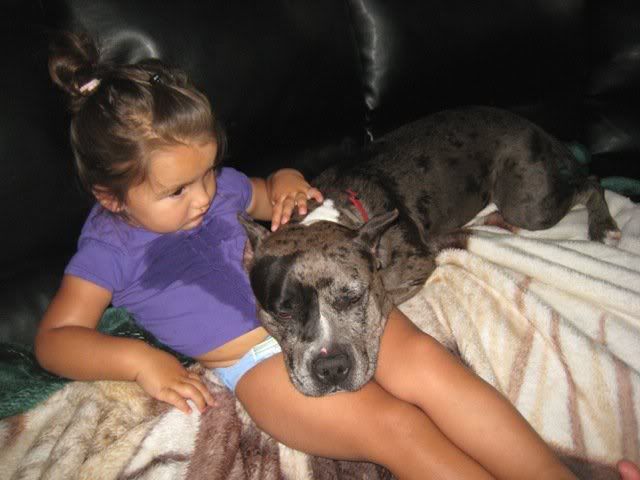 Violet loves children!
Violet playing with her foster brother, Tonka
Violet, the pillow


Violet snuggling with her foster brother, Jester (a RRinc alumni)