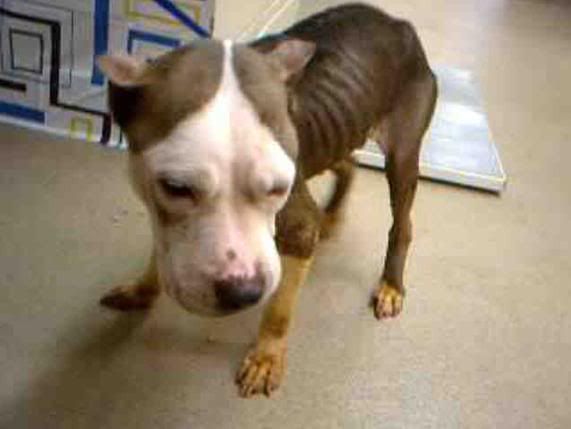 Wish's intake photo at animal services. Notice the urine-stained
legs and open sores.
"Wish" is a female blue and white Pit Bull Terrier who is being pulled tomorrow, 4/13, from Orange County Animal Services.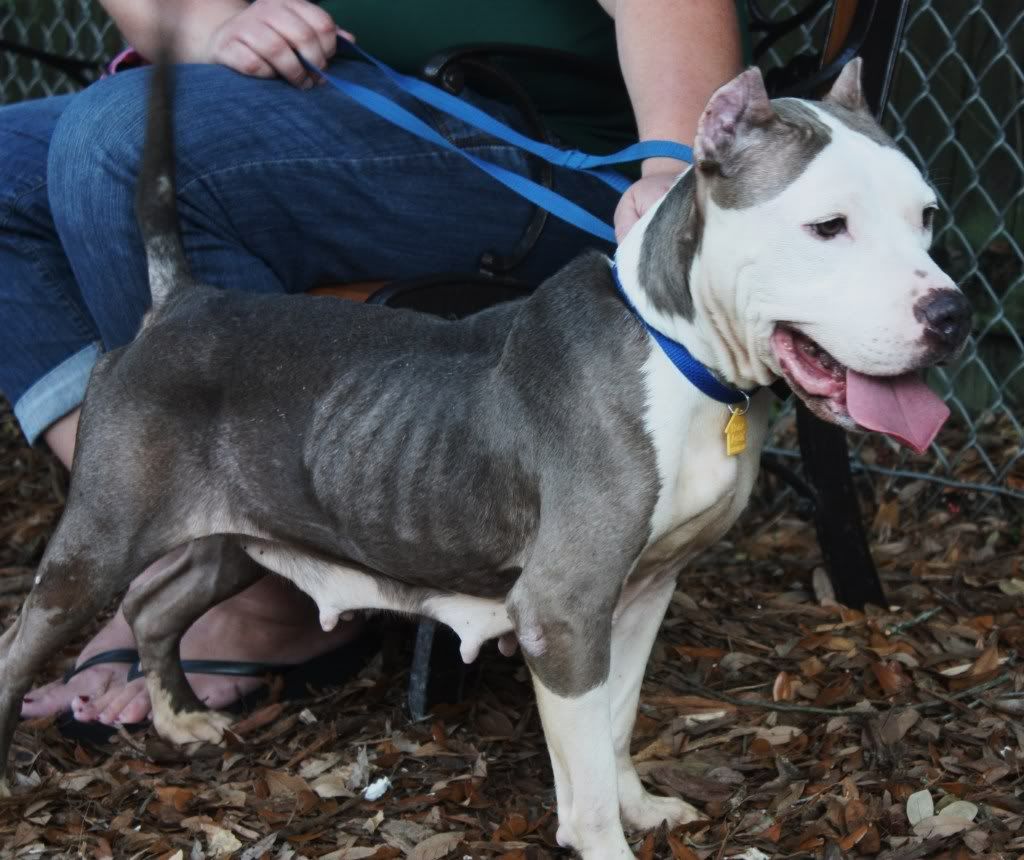 Wish is in awful shape - bones sticking out and covered in urine burns. She is going to go through a full medical workup - blood panels, physical exams, etc - to see if there is a biological cause for her emaciation. But, considering the extreme urine stains, it appears she is probably the victim of unthinkable neglect - locked up in her own waste without food or water.
No matter what is causing her condition, she only has one "wish" - to be loved. Despite her harsh treatment, she still have a desire to live. She is a timid soul, wagging her tail gently when approached by people. Right now, her eyes tell a depressing story. But, with some TLC from RRinc, they will soon be telling a tale of great redemption.
By some stroke of luck, Wish is heartworm negative. However, she will still need a lot of supportive care and medical check ups. If you could please donate even just $10 to her treatment, that would make a world of difference.
To donate via Paypal, please click
here
.
Wish's progress will be posted here regularly, so stay tuned!
UPDATE: 4/17/11
Wish is safe and sound! She and her daughter, Twinkle, arrived Friday evening. Thanks to Summer in Orlando for holding them overnight and Stephanie for transporting them to Tampa.
Twinkle is in relatively good shape - a little skinny with some flea dermatitis, but nothing too serious. She is a happy, wiggly puppy with a great personality. She appears to have a little something other than Pit mixed in...maybe Hound? She is super adorable and is currently looking for a Foster-to-Adopt home.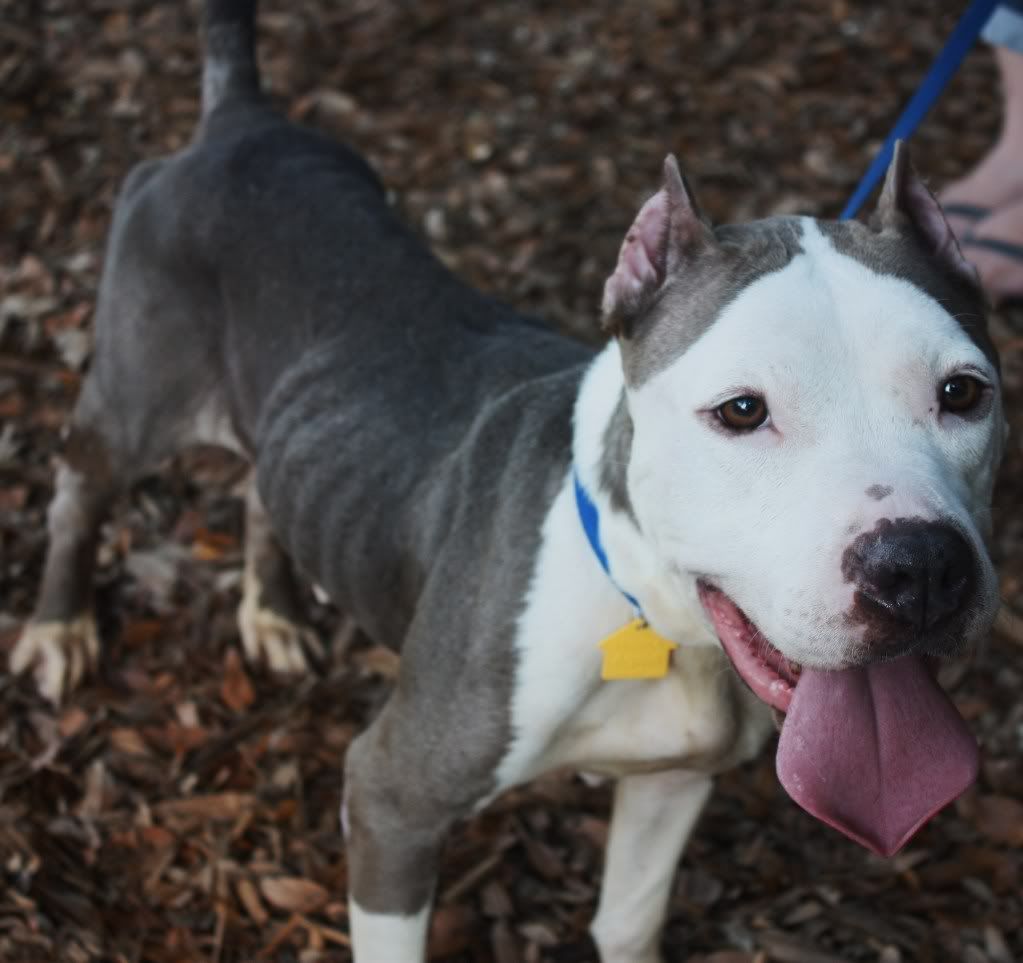 Wish, on the other hand, is in awful shape. She is totally emaciated, with her spine and ribs sticking out completely. She also has severe urine staining on her legs and underbelly, which will take weeks for the new, clean hair to grow back in. To top it all off, she has multiple pressure sores on her body. All of this supports our theory that she was locked in a small, cramped cage with no human interaction - no petting, no love, not even trips outside to use the bathroom.
But now, Wish never has to worry about that fate again. She will never have to wonder if she will get dinner every night, or whether she will ever be allowed out of her crate. Her life from here on out will be a "wish" come true.
5/30/11: Well, it has been just over a month and Wish is a totally new dog! She has been fostered by our director and has totally stolen her heart with her wiggly personality and love of life. In fact, Wish's nickname is "Go-Go" because she bounces around like a Go-Go dancer. The vet estimates her age to be around 6 years, but don't believe she is an old lady for a second. This girlie has boundless energy and would love a home where she can go for long walks and have lots of play time. She is quite the snuggler, too.
So, if you are looking for a Pittie girl with an awesome personality, Wish is your girl. She is a fantastic example of the trusting and forgiving nature of this breed - she literally was on death's doorstep because of human negligance, but she still adores people.