Molly is a pretty blue cream and white female Pit Bull, approximately 3 years old. She was found as a stray with Dolly, and both of them were Heartworm positive. They have since been through treatment and are ready for their forever families.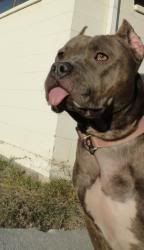 Don't let Molly's large size and warcropped ears fool you -- she is a big goofball. She loves to stick her tongue out all the time, it is a huge crowd pleaser. It is very difficult to be scary when your tongue is always hanging out :)
She gets along great with other dogs and children. She would be perfectly suited to a semi-active home.
Her foster mom, Kim, says: "
Dolly and Molly's foster mom here ... just adding that we recently just had a mini pincher rescue in the house. Molly and Dolly got along GREAT with him, not to mention how well they get along with the black lab and pit mix we already own. Just in case anyone was curious as to how they get along with other dogs. :- )"
For more information on Molly, please contact Adoptions@RugazRescue.com